Create a Beautiful, Functional Outdoor Space with Hardscape Installations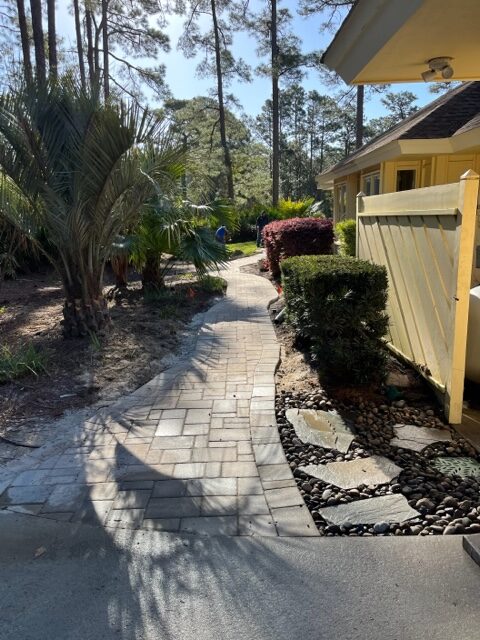 At LowCo Gardeners, we understand that a beautiful garden isn't just about plants and flowers. It's also about the hardscape features that create an inviting and functional outdoor living space. Whether you're looking to update your existing landscape or start from scratch, our team of hardscape installation pros can help you achieve your dream garden.
You can rely on us for timeless designs, expert installation, and high-quality construction whether you're trying to solve a drainage problem, maintain privacy, want a stable place to gather outdoors, establish a durable path for ingress/egress, or are just looking for a standout focal point.
What is Hardscaping?
Maybe you've never heard the term "hardscaping" before, but you've definitely seen it.
Hardscaping refers to the non-living or man-made elements in a landscape design. It involves the use of materials such as concrete, stone, brick, wood, metal, and other similar materials to create features such as patios, walkways, retaining walls, fountains, outdoor kitchens, fire pits, and other permanent structures that enhance the functionality and aesthetic appeal of an outdoor space.
In other words, hardscaping is the process of incorporating permanent, solid structures into a landscape design to create visually appealing and functional outdoor living areas. It is an essential aspect of landscape installation as it provides a framework for landscaping elements, such as plants and trees, to thrive and complement the overall design.
LowCo Gardeners can install hardscape elements such as:
Paver and Stone Patios, Walkways, and Pathways: Installing pavers or stone can add a touch of elegance and durability to your outdoor space.
Wood Fencing: Classic option for privacy, security, and aesthetic appeal. From classic picket fences to custom designs, wood fencing adds natural warmth and texture to your outdoor space.
Retaining Walls: Retaining walls can add dimension and structure to your outdoor space. They are often used to create level terraces, prevent soil erosion, or enhance the visual appeal of a landscape.
Arbors and Arches: Arbors and arches add a touch of charm and elegance to your outdoor space. These are used to frame entrances, walkways, or seating areas.
Wooden and Stone Bridges: Bridges can add a unique and functional element to your outdoor space. Whether crossing a stream, pond, or garden bed, wooden or stone bridges can provide a picturesque focal point that enhances the overall design of your landscape.
Flower Bed Edging: Flower bed edging adds a finishing touch to your garden beds, defining their boundaries and creating a clean and organized appearance.
Fountain and Monument Installation: Fountains and monuments can add a dramatic and eye-catching element to your property.
Custom Stone Benches and Platforms: Custom stone benches and platforms can provide a comfortable seating area and enhance the visual appeal of your outdoor areas.
Gravel and Crushed Aggregate Installation: Gravel and crushed aggregate can provide a durable and low-maintenance option for pathways, driveways, and outdoor spaces.
Creative, Attractive, and Functional Drainage Solutions: Proper drainage is essential for maintaining the health and longevity of your outdoor space. From French drains to catch basins, there are a variety of creative and attractive solutions available to ensure proper drainage.
Why Choose Us?
At LowCo Gardeners, we pride ourselves on delivering exceptional hardscape installation services that exceed our client's expectations. Our skilled team is dedicated to providing top-quality workmanship, exceptional customer service, and competitive pricing. We use only the highest quality materials and state-of-the-art equipment to ensure that your garden's features are built to last.
Contact Us Today!
Ready to transform your garden with beautiful and functional hardscape features? Contact us today to schedule a consultation with our team of installers. We'll work closely with you to understand your vision and bring it to life with our professional services.